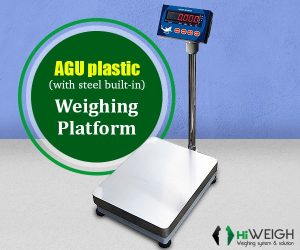 To make the business operation more efficient, smooth and speedy, one needs to avail a weighing scale that gives accurate results. The top quality equipment should be versatile enough to be used in multiple sectors within the industry – agricultural, veterinary and manufacturing for goods-in and also goods-out dispatches. Before making any purchase, make sure to watch out the range of scales manufactured in stainless steel material in various sizes that are apt for harsh environment and wash downs.
One must be careful to choose a scale to be used in food and pharmaceutical industries. In the food and pharmaceutical industry, hygiene is of utmost concern, and so, the stainless steel machine will be your best bet. If buying for industrial unit specifically, various things have to be kept in mind. Floor scale is a popular choice and bears specific qualities to be able to render good service. As there is a huge competition among the manufacturers of weighing platform scales and floor scales, you may get a good quality product at affordable rates as well.
As the investment is a one-time big investment, the purchase must be carried out after a careful thought. The scale must be easy-to-maintain such that it needs minimum trimming in the future. The leading manufacturers of weighing scale use LCD displays while avoiding a numeric keypad or a mechanical one. If there is any specific need put that in front of the manufacturer who may design the scale as per the stated specifications.
A Complete Assessment of the Needs
Platform scales are actually used on platforms in order to weigh the cargo. The kind of weighing scale to procure solely relies on the needs of the object that has to be weighed. What matters here is the platform size, which should be as per the width of the object. Consider the weight capacity of the platform, the object which is to be weighed, the machine's durability and the accuracy in weighing to the smallest decimal point. If you need to use the scale on a continuous basis, buy a durable scale.
The Various Types of Platform Weighing Scale
There are various kinds of platform weighing scales with some of the popular ones being Pit Mounted scale, Floor Mounted scale, Portable and Intrinsically Safe platform, Mobile Platform scale, Hazardous area scale and Standalone scale. For weighing substances like food, detergents, household items and medicines, one can use low capacity platform scale. For the automotive industry, a heavy duty weighing scale is required. Heavy duty platform scale should constitute of stainless steel material to ensure sturdiness.
Swivel Castle Scale: A Popular type of Weighing Platform Scale
Among all kinds of heavy duty weighing scales, Swivel Castle scale is capable of handling arguably the heaviest cargo to the extent of 20,000 lbs. The best thing about this scale is that it gives precise results and is durable at the same time. Its features are heavy duty tread plate, junction box constituted of stainless steel material, heavy-duty cast steel and swivel casters.
Conclusion
The internal machinery and the surface of the scale should be of stainless steel material to ensure durability. Hence, choose a quality scale that not only stands the test of time but has cutting edge features as well.