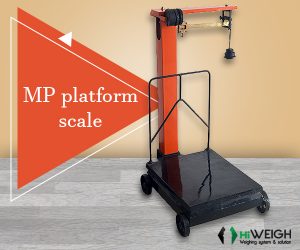 When it comes to the weighing of large bulky objects such as goods in a warehouse or a logistics hub, a heavy duty weighing platform scale is the best option. The criteria that define such a scale are durability, strength, and a wide area, where the latter is needed to place large sized goods. The platform scales are available in many sizes and are generally made of stainless steel to lend that extra strength. Besides, these may contain wheels as well for easy movement.
The many functions that form part of such scales are counting, checkweighing, percentage weighing, zero, tare, animal weighing, accumulating and others. These scales are used in a number of places such as airports, retail, transport hubs, hospitals to weigh wheelchair bound patients, post offices, and warehouses of manufacturing or commercial establishments where large goods are needed to be weighed.
Platform Scale with Accessories
The scales can be paired with washdown IP66 or IP67 rated indicators, protecting fence, printers, and computers to carry out functions like counting, checkweighing, and data processing. The data obtained from such scales and processed through computers can be used in inventory management.
Factors to Choose a Brand
Choosing the right platform scale can be challenging given the number of brands that are available that too at varying costs. Merely buying a weighing platform scale that costs less is not a prudent move, for the same could end up giving erroneous readings, not complying with regulatory standards or developing faster wear and tear. So, choosing a brand should be guided by a slew of factors such as
1. Experience of the company producing such scales
2. Quality certification of the company and its products through ratings such as ISO, OIML, IP etc
3. Range of scales and their suitability to meet different weighing needs
4. Features of scales that render weighing an easy exercise
5. Cost
Brand That Speaks of Quality
The brand that meets the above mentioned criteria is HiWEIGH from Shanghai, China. With more than eighteen years in the business of innovating and developing weighing solutions for a host of industries ranging from retail, laboratory and food processing to mining, manufacturing and transport, the ISO9001 company has products that are ISO17025 approved, besides having OIML/NTEP rated load cells – all available at reasonable rates.
Types of Platform Scales from HiWEIGH
Weighing Platforms: Made of extremely sturdy, rugged and durable stainless steel or plastic powder coated steel, the platforms with wide spaces come in models namely, BSB, AGU, BHB, BSR, BSW, BXT, MPH, and BHA respectively. The scales can have optional ISB/ISC indicator stands as well.
Weighing Scales: These come with fixed indicator stands with models named as AGU, AKX, ATK, BBK, BBQ, BBX, BSA, BSD, BSE, BSX, K9T, KPC, LOG, MP, PBS, and TZ respectively.
Notable Features
1. Load cells with IP65/IP66 protection. In other words, the load cells are fully protected from the ingress of dust and low pressure jets of water
2. Bright FSTN backlit LCD display for easy reading, even under the sun
3. IP67 rated indicators that are fully dust protected and can withstand immersion in water between 15cm to 1m of depth
4. RS232 interface for easy connectivity to a printer and computer
5. Optional WiFi and Bluetooth
Conclusion
The weighing platform scale has many applications in a host of industries and business establishments. However, procuring them from the Chinese company HiWEIGH can serve you well from quality, durability, and versatility aspects.